2.56ac – Solitude and Convenience are Yours for $97 per Month!
Property Description:
A Quick Glance at the Competition…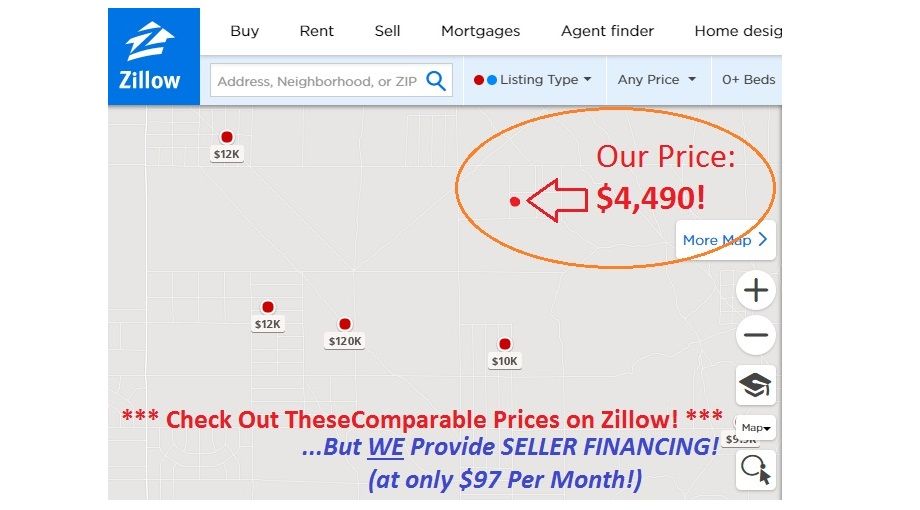 For our FULL list of bargain properties, visit:
www.Land-Sales-America.com
(*Don't forget to call us if you have questions about the parcel! We'd be very happy to help you out. Call us at: 1-888-616-9590*)
Highlights of This Parcel!
Less than 2,300ft to power lines!
Less than 4 miles to CA City Blvd!
Only a 20-minute drive to California City Central Park!
Solitude and Convenience! Do you want a place to call your own? Away from the city but close enough to enjoy city conveniences? Then this parcel has what you are looking for! It is less than 4 miles to the "main drag" (California City Blvd.) and only a short 20-minute drive to the California City Central Park with its lakes, golf courses, swimming pool, playground and nearby restaurants and hotel. Power lines are less than 2,300ft away.
SO WHAT'S THERE TO DO? (with driving times, starting from the parcel)
1) Back to the basics! Pull in that RV, pitch that tent, fire up the barbecue grill and bring out the off-roading toys on your own property!  (0 minute drive!)
2) Take a scenic hike up in Red Rock Canyon State park! (44 minute drive!)
3) Hone your archery and shotgun skills at the range at Silver Saddle Ranch & Club! (41 minute drive!)
4) Finally, end your night with a nice relaxing stroll to the hot tub at the brand new Best Western Hotel!  (23 minute drive!)
5) Hit some balls on the green at the golf course located in California City Central Park! (23 minute drive!)
6) Visit the mountain town of Tehachapi where you'll find a variety of hotels, name-brand stores, shopping and restaurants… even Starbucks! (56 minute drive!)
7) Get soaked on the roaring rapids of the Kern River with one of several rafting companies! (1 hour 42 minute drive!)
Our PIECE OF CAKE land-buying process is as easy as 1-2-3!
1)            Reserve your parcel and answer a few simple questions.
2)            Look over the documents, authorize and mail to Ticor Title in Bakersfield
3)            Approve escrow documents. Only one simple form to fill out, ever!
Give us a Call!  888-616-9590  ("Ask for Paul")
Sale Price: A VERY Low $4,490!
APN: 233-062-34
Easy Financing is available!  ($97 per month RIGHT NOW ONLY $150 down payment! *First come first served*)
Discount price for Cash Sale!  Call us for details!
For more pictures and information about this property, please visit our website at www.Land-Sales-America.com to gain access to all of our bargain properties.
Once you are at our Home Page, please click on the link for the "2.56ac – Solitude and Convenience are Yours for $97 per Month!" parcel ad.  Thanks.   You will find more parcel pictures there on our website.
Our phone number is: 1-888-616-9590.  Please call or e-mail us with any questions you may have.  Thank you!
| | | | | | |
| --- | --- | --- | --- | --- | --- |
| Down Payment | Monthly Payment | Sale Price | Interest Rate | Term Length | |
| $$150 | $$97 | $$4,490 | 9.9%% | 77 Months | Contact Seller |
Property Details
Status: Sold
Sale Price: $ $4,490
State: California
County: Kern
APN (Assessor's Parcel Number): 233-062-34
Size: 2.56 Acres
Short Legal: PARCEL MAP 3298 LOT 1
Terrain: Level
Road Access: Dirt Road
Electricity: 77 Months
Current Annual Taxes: $ $90
Directions
Edwards, CA 93523, USA
Additional Photos
Picture 10
Picture 11
Picture 12
Picture 13
Picture 3
Picture 4
Picture 5
Picture 6
Picture 7
Picture 8
Picture 9
Picture 1
Topo Map
Property Map
Contact The Seller
This is a classified listing please contact Paul Young by phone at (888) 616-9590, by email at young.paul888
yahoo.com.